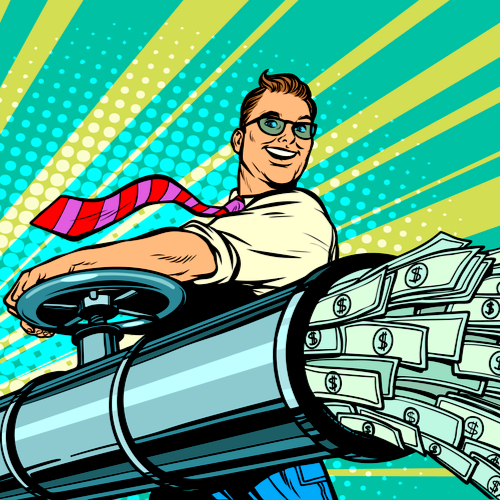 The Money-filled Bank of Mom and Dad
If you have a student in college, we are sure that sometimes (or perhaps all the time), you feel like you are a financial institution, giving money to your students to help offset the cost of college. That would not make you alone as, according to the Pew Research Center, three in 5 parents with children between 18 and 29 have given their kids some financial help in the last year including assistance with bills and groceries, education costs, and rent or mortgage.
Money, whether you give your student a little, a lot, or none at all, the fact remains is that college is enormously expensive and college debt is at an all-time high. We have been in your position; in fact, some of us still have college graduates that need our financial support. That is why we share some cost-saving tips with you to start off the year.
Teach them to Budget – If there is a budget class, sign them up! I'm going to start with the dreaded comment starting "when I was in college, we didn't have…" (insert teenager eye-roll here).  All of us at HaveUHeard can say that we did not have computers, iPads, or cell phones to help us bank, and somehow, we managed to survive. Today, students do the majority of their banking online, split the cost of food and entertainment through apps such as Venmo, and rarely walk around with cash. So how do we get them to learn to live within a budget? And how much should we give them?
For school-specific information, check out each university.
Tax Time – Taxes, we have to admit, are not fun but necessary. As you are preparing your return or having a CPA prepare your return, do not forget to take advantage of the Education Tax Credits available which can help offset the cost of your student's education.   We've also received some very helpful information we want to pass along to you… The IRS has advised college students and families that, when filling out the Free Application for Federal Student Aid (FAFSA) form, they can use the IRS Data Retrieval Tool to obtain tax information necessary to fill out the form. Other options are also available to obtain tax information (IRS Tax Tip 2019-82). The federal government offers various forms of financial aid for college students, including loans and scholarships.
For tax time school-specific information, check out each university.
Scholarships – Almost as soon as the first acceptance to college came in, so did the idea of actually having to pay for their tuition and room and board. With so many scholarships available today, the trick is finding the ones that suit your student's needs and that they will qualify for. Some scholarships are quite competitive, some last for four years, and some are downright silly, but pay for something. All make those bills for the next four (or more) years more bearable.
For school-specific information, check out each university.
Every year, I hear stories about the many thousands of dollars in scholarship money that are never applied for.  It does take a lot of work and time to research scholarships, apply for them, and to validate the authenticity of them. Our goal is to make it easy for you, below we have tons of suggestions to get you a step closer to getting a scholarship.
College Avenue – Whether you're a parent or a student looking for a loan, College Avenue and HaveUHeard are here for you. We know getting loans is scary and complicated, so we partnered with College Avenue to provide you with an awesome connection. A student loan designed for you. Take the stress out of paying for college by creating a private student loan that fits your budget and your goals. With a simple application, helpful tools, and great customer service, we're here to help you breathe easy. Feeling Stressed? We've Got A Better Process.
Pass on these great tips, tell your friends and like us on Facebook, Instagram, Twitter, and Pinterest. Find out more about how to use HaveUHeard as a great resource. Sign up for other great tips at haveuheard.com.