HaveUHeard.com includes links to third-party websites and advertisements for third-party products and services. Product and service-specific opinions mentioned within the content of our blogs are entirely the opinions of the HaveUHeard.com team and its staff. It is our hope that you will find value in the products and services these third-party organizations represent, and patronize these businesses. Such advertising and marketing partnerships help make our efforts at HaveUHeard.com possible. Thank you for your support and ongoing interest. For additional information, please read our full HaveUHeard.com Disclosure Statement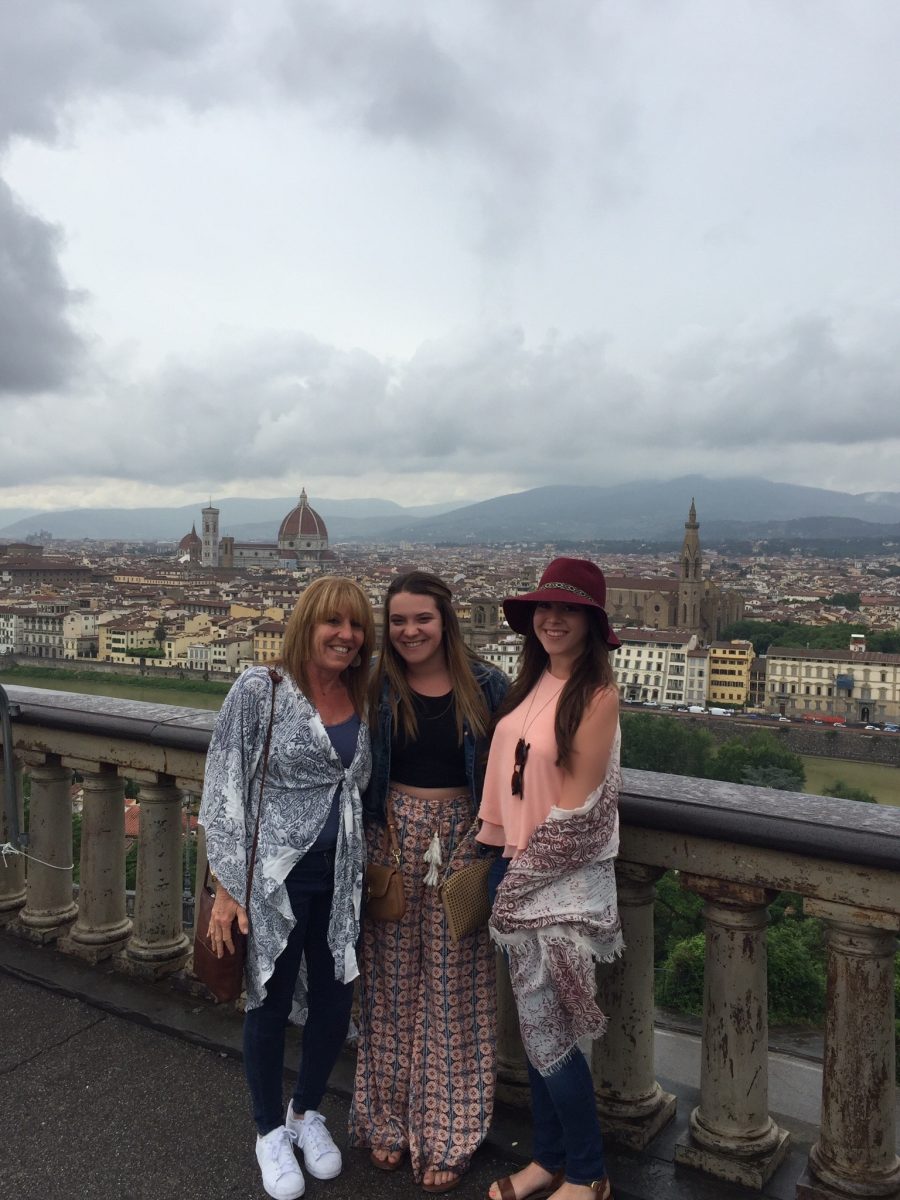 A Place to Eat, Pray & Love
One of my all-time favorite books and movies is Eat, Pray, Love. (If you enjoy Audiobooks, you can get them for free with an Audible trial). I decided after watching the movie that Italy, India, and Indonesia would be on my travel bucket list. We decided on visiting Italy, a country where we could Eat, Pray, and Love. This required more planning since we would be traveling by plane train and car to visit different cities.
When you first plan on visiting Italy, depending on how many days you have, you should narrow down the places you want to visit. Rome and Florence were definitely on the top of our list; the Amalfi Coast seemed like a great destination to chill and unwind for a few days. We added Venice as our last stop.
And, because we were spending two to three days in each city, we would be moving around a lot which meant packing lightly. Again, I would strongly encourage you to try to pack according to the 5,4,3,2,1 guide (and a pair  & a spare). When looking for outfit suggestions, make sure it is for a current year. Also, check that you are looking at the same seasonal recommendations. More importantly, make sure you bring a covering. Most churches, mosques, temples require women to have their shoulders covered. Specifically, no short outfits either; if going to the Vatican, you cannot have anything showing above your knees.
Mother-Daughter Trip
I am fortunate in that my young adult daughters and I travel great together. First, we love trying the local cuisine and often share appetizers. Second, since we basically are the same size, we can share clothes if necessary. Lastly, we tend to enjoy the same places to visit. As for accommodations, a local boutique hotel is our preference. For those reasons, we recommend looking at junior suites if you are visiting Italy with three or more people. If you are only two travelers, a traditional room may work.  Since there are three of us, and women too, that means three suitcases and showers, hair, makeup; you get the point.
When traveling abroad from the states, most flights are overnight flights. On the positive side, late flights are perfect if you still need to work that day. Plus, you can sleep the flight over so you are ready to start exploring when you arrive. Try to combine points from a credit card or travel site to upgrade to business class. I assure you, for long international flights, your body will thank you.
The train stations are fairly easy to navigate but you have to load your own suitcase. A word of caution; do not let anyone do it for you because they will demand money. We learned this when a man grabbed our bags. I thought it was a valet but it was not. Despite trying to get him to give us back our luggage, he persisted. As a result, we ended up tipping him rather than having him throw our luggage off the train.
When In Rome
Hotel: Hotel Donna Camilla Savelli. I specifically chose the Trastevere neighborhood because sometimes my daughters like to go out at night (they are over 18 years of age) and wanted them to be near our hotel. This hotel is a converted 17th-century convent with a beautiful outdoor terrace to eat breakfast at (breakfast is traditionally included in the price of the hotel). And, the hotel has a rooftop terrace that has the most amazing views of Rome.
We loved walking around Trastevere. This brick-paved area is filled with artisans, cafes, a fountain in the piazza, and bars. Equally enticing is it was within walking distance to our hotel. They have a pretty active nightlife but be careful very late at night. It is easy to get lost and I do not recommend going solo, especially if you are a single girl. As with any large city, be alert and use common sense.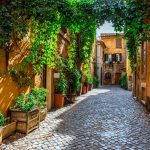 On our first day when visiting Italy, we booked a tour guide to give us a good feel for the city. This was more about having only a few days and wanting to maximize our time. With our tour guide we went to the Colosseum, Trevi Fountain which gets very crowded; just work your way to the fountain and you will find plenty of people willing to take a pic of you throwing a coin in the fountain (when in Rome …). We also went through the Jewish Ghetto which is just a small block where there is still an existing synagogue.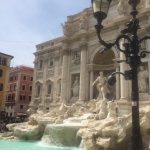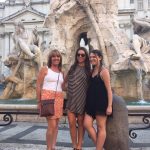 On the second day, we did a tour of the Vatican, the pray part of our Eat, Pray, Love Visiting Italy vacation. By going with a local tour guide, not only will you have your tickets in advance but they tend to know the right people to get you into specific areas you may be unaware of and their knowledge of local iconic places is quite impressive.
Positano, Italy
After spending two days sightseeing from morning till night, the idea of a coastal time out was perfect. Getting there required us to take the train from Rome to Naples. From there we hired a driver to transfer us to Positano.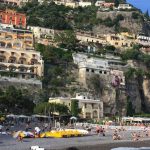 The drive through the Amalfi Coast is exquisite but at the same time a little scary as you weave your way up the mountain. (coming from a sea-level flat state, any altitude and narrow mountain road are nerve-wracking for me).
Hotel: We stayed at the Eden Roc located in the center of town near the shops. There is a path to walk down to the beach. The steps are fairly steep and the streets narrow so keep that in mind when walking. We decided to head down to the beach to grab a bite at Ristorante Buca Di Bacco. Having kids that are willing to try almost anything is great – we always pick like 4 to 6 starters and share.
Isle of Capri
For our second day, we went on a boat tour to Capri. The boat usually has no more than 12 people. The ride over to Capri is short and they drop you off at the marina. There are a bunch of restaurants there but we usually avoid touristy restaurants with all the same laminated menus and photos.
Of course, we were not paying attention when our boat captain said you can take the funicular (cable car), a taxi, or a bus up to the top of Capri. That is where many luxury and world-class shops are as well as some amazing food. So we set out on foot, walking up winding stairs for what took over an hour. Naturally, we needed to take breaks because it was hot and a winding vertical climb with a lot of steps.
To put it another way, I don't think my daughters trusted that I had this under control. Specifically, they did not think I knew where I was going (I did not, 😉😉). Obviously, I knew the stairs had to lead somewhere. There were a few other people walking as well and one even told my daughters that they would thank me immensely once they got to the top. Luckily they did. Consequently,  we made certain to take transportation back down to the marina when it was time to leave.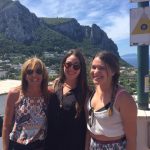 On our return charter back, we stopped in a cove where we could go swimming. They go through this cliff in the sea that has a small opening (they call it threading the needle). It's a little scary because you know the captain is dealing with the current so his timing has to be spot on.
And, of course, like most who visit Capri, we stopped so we could visit the Blue Grotto sea cave.
I am glad we did it although it is a bit of an ordeal as there are literally small boats everywhere trying to grab the attention of the rowboat driver where you climb in from your boat. You then have to lie flat on the boat to fit into the cave. It can take over an hour waiting for the five-minute visit inside the grotto where the other rowboat drivers serenade those inside singing o solo Mio. Although it is beautiful, it seemed a bit cliche. You are expected to pay and tip both coming and going and trust me, if you don't, you will hear about it from the rowboat captain. It is one of those experiences when visiting Italy that while we were glad we went, we would have been fine if we did miss it.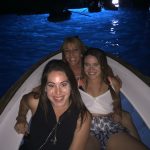 One restaurant I would absolutely recommend is La Tagliata, a family-run restaurant. You have to make a reservation. They arrange transportation to and from the restaurant which was an experience as it is way up on the hill. It was a fixed price and a lot of food; they even accommodate two of us who are pescatarians. Make sure you bring enough euros as when we went, it was cash only.
Florence, Italy
Ahh, Florence, my favorite city in Italy. The architecture, the food, the ambiance… there was not one thing I did not love about Florence. We had a walking tour our first day to visit the Galleria Dell'Accademia (that is where you will see Michelangelo's David). I'd strongly recommend a private tour with priority entrance & tickets.
Hotel – Firenze Number Nine Hotel
There were so many reasons I loved this boutique hotel. For one, it is literally in the heart of Florence a short walk from the Duomo and main museums. Second, anywhere we walked, it was usually past the Duomo where I'd make my daughters stop because it was that breathtaking. Last, it was also close to Ponte Vecchio.
Since we arrived before our afternoon tour began, we went exploring walking through the leather market. The vendors sell lower quality leather products; however, there are places to go for upscale leather products. If you want a leather bag or belt or wallet or luggage as a souvenir or gift, this is an affordable place to shop. We ate at the Mercato Central which has local artisans preparing hot and cold food. This is a great way to sample different foods.
One of the best views of Florence is at Piazzale Michelangelo- would recommend trying to go around sunset; it is truly remarkable. Explore the piazza or side streets or surrounding neighborhoods; there is much history to find as you wander.
Eating in Florence
The food in Florence is unbelievable. We did research on many places to eat. Our criteria are that it is local and not a tourist trap, that it is casual, and that it has an extensive menu. Our favorite restaurants, which we strongly recommend booking in advance, are Yellow Bar, 4 Leoni, Gusta Pizza, and La Giostra.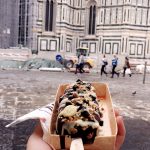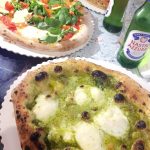 On our third day in Florence, we took a day excursion to Chianti to explore the Tuscan countryside. We stopped in San Gimignano, a small walled village that is recognized as a UNESCO World Heritage site. We walked around for a short time and mainly did some local shopping before heading for our wine tour.
Our first stop was Podere La Marronaia winery where we had the most amazing wine tasting with a Tuscan lunch. The food kept coming out, the wine was being poured all from one of the owner's son. To this day, I have their wine and olive oil, and balsamic sent over especially when they are offering a 30% discount. Plus, I love supporting this family winery whose business iss severely impacted by the pandemic.
After visiting Italy, Florence is by far one of my favorite cities to visit and I cannot wait to go again.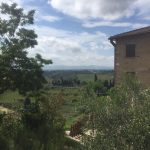 Venice, Italy
Hotel: Hotel Al Reali
This was our last stop on our Italy adventure. I grew up in Fort Lauderdale, long called "The Venice of America. " Obviously, I know that Venice is a city of canals. What I did not expect, since we had taken the train from Florence to Venice, is that it would cost €100 (the equivalent of over $120 U.S. dollars) to go from the train station by boat to our hotel. That is the going rate.
The hotel is a 17th-century Venetian palace that has 32 rooms.
We did a short guided walking tour where we went to St. Mark's Square, Rialto, and through alleyways away from the tourists.  I typically recommend using a tour guide when traveling to a city you have not been to before. For Venice, take your own tour as it is not that difficult to get around. Sometimes it is fun to wander on your own; it is where you can discover some unique and wonderful places.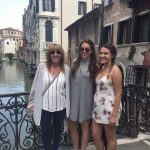 St. Mark's Square, you may have heard has a huge number of pigeons because the equally large number of tourists (with their selfie sticks) feed them. We had no interest whatsoever in participating nor getting a photo feeding the birds. St. Mark's Square in Venice is quite vulnerable to flooding. They have measures in place to protect some of the square.
The narrow alleyways during the summer attract crowds, especially cruise ship visitors. Most of the shops are touristy as well. As for a gondola ride, one of those "when in Rome" activities, we did go and we did have the gondolier serenade us. Honestly, I find it to be overrated, cliche, and overpriced.   In spite of that,  if this is a once-in-a-lifetime trip and you feel you would miss out by not not taking a gondola ride, then go for it.
Also in Venice is Harry's Bar; it is best known for being Ernest Hemingway's favorite bar. HaveUHeard it is also home to the Bellini cocktail, which is fresh peach and sparkling wine (prosecco, champagne). Hemingway's connection to Key West, Florida makes it enticing but there is usually a wait to get a seat as it is very small. The drinks are pricey and seem to be more a photo opp than anything else.
The Rialto bridge is a popular photo spot. If you go on the Doge's Palace tour, you will have access. I also recommend the tour to see the view from the Bridge of Sighs. HaveUHeard of the legend of the Bridge of Sighs?
Other Places to Visit Near Venice
One regret is not getting to Burano, known for its brightly colored fisherman's houses and casual eateries. Unfortunately, the weather did not permit us to make this day trip. Some friends also recommend taking a boat over to Murano, an island known for its glass-making creations.
I love Italy! Eventually, I want to visit northern Italy. I highly recommend visiting Italy!
Additional Information
Traveling with friends can be complicated, especially during a long trip. So too can vacation with your adult kids. But we had an open, honest dialogue and determined we were compatible. Here are my suggestions for the top 10 travel item recommendations. And, we all know how chaotic traveling is today. I'm sharing tips for Dealing with Chaotic  Air Travel.
Pass on these great tips, tell your friends, and like us on Instagram,  TikTok, and Pinterest.