HaveUHeard.com includes links to third-party websites and advertisements for third-party products and services. Product and service-specific opinions mentioned within the content of our blogs are entirely the opinions of the HaveUHeard.com team and its staff. It is our hope that you will find value in the products and services these third-party organizations represent, and patronize these businesses. Such advertising and marketing partnerships help make our efforts at HaveUHeard.com possible. Thank you for your support and ongoing interest. For additional information, please read our full HaveUHeard.com Disclosure Statement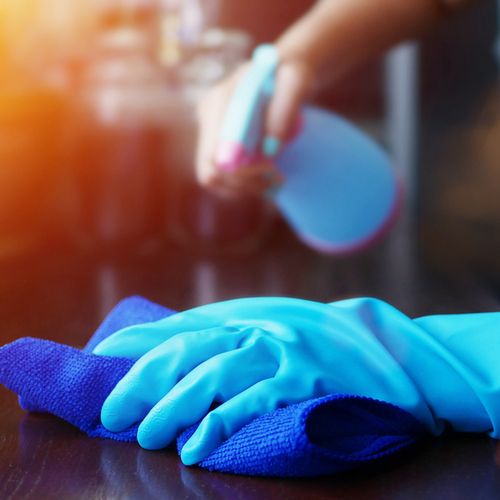 Make Sure Your Student Has Made Their Place Security Deposit Spotless!
There is a way to get the security deposit back but it will require a little effort, here is how we can help you. I have personally been through four dorm move-outs (summer and fall for two daughters) and six apartment move-outs not to mention our bloggers. And yes, there have been plenty of move out charges ranging from the burned desk chair in her dorm room (courtesy of a hair appliance), to dirty stovetop drip pans (yes some apartment managers will charge you for that).
Hopefully, you have heeded our advice when your student moved in and included EVERYTHING in the move-in form they gave you (make a copy of this form) AND took plenty of time stamp photos of EVERYTHING! And by everything, we mean mismatched paint on the walls (from other tenants or landlord filling in holes and retouching up without painting the whole apartment), food stuck between stove and countertop (I promise you that when my daughter moved into her apartments, there was more dried up food in that small space which we had them come out and clean), stains on any carpet that may be in the apartment, dusty blinds, inside the refrigerator and oven, bathtub, toilets, cleaning the dryer lint screen, even hair along the baseboards… EVERYTHING!
I wish I could tell you that the guys are messier than the girls but based on my daughter's and what I have heard from my other mom-friends, the daughters could be even worse than the sons. And apartment managers are notorious for finding many little forgotten items to charge exorbitant fees.
There is an apartment cleaner on TikTok that goes by the name @brittoreppy21 that shares some great advice as well as recommending products she uses. If you do not have TikTok, here are some of the products she recommends:
For the Oven
Oven Cleaner – or baking soda (½ cup baking soda and 3 tbsp water- let the paste sit for 15-20 minutes and then wipe off with wet paper towels or use a 3:1 mixture of water and distilled vinegar on a paper towel to wipe clean).
Oven Liner – We would actually recommend your student using these at the start of their lease.
Stove Top drip pans – My D and her roommates got charged a total of $30.00 to replace four pans. You can buy them at Walmart for a lot less.
Remind your student to clean the bottom drawer too.
For the Refrigerator
I admit the refrigerator is probably the last thing I tend to clean yet I see (as I am sure you do too), the splatters and drippings from foods on the shelves and in the drawers. I actually recommend putting paper towels in the drawer to absorb some of the juices from fruits and veggies that may either be going bad or just "sweating" a bit. I change these monthly. Again some good old fashioned baking soda and water or vinegar works and honestly, you wouldn't want to use anything harsh smelling inside of your refrigerator. Using Mr. Clean Magic Eraser (they even sell them in sheets now) works wonders on the stuck-on foods.
Patching Holes
Yes, students do make small holes (from all the decorating they do to their apartments). They are going to want to patch those holes left by nails, tacks, and screws. This requires three items: spackling paste, a putty knife, and some sandpaper. Squeeze a small glob of the spackle into each hole, then use the putty knife to spread and blend it over the hole and wall. Once the spackle is dry, use the sandpaper to lightly sand the area, especially around the edges, to leave a smooth, flat wall.
HaveUHeard that you can also use plain white toothpaste or baking soda mixed with white glue to fill nail holes and a plastic knife in place of a putty knife? This is only recommended if they totally forgot to do the repairs in advance and the apartment manager is coming over to inspect the room.
Scratches on the Floors
Let's face it- most apartments are using hardwood floors these days because they are much easier to clean than carpet. The problem is they get scratches.  Your student will want to get a wood-colored marker or pencil at the hardwood store and try to disguise the scrapes. For less deep scratches, HaveUHeard that rubbing a raw walnut over the scrape until the scratch blends into the rest of the floor? This only works on surface-scratches tbh.
Don't forget to replace lightbulbs.
Now after you have cleaners and fixed and patched and scrubbed, repeat exactly what you did when you moved in and take time-stamped pictures of EVERYTHING because apartment managers are notorious for charging you for repairs and with the proper documentation (hopefully you kept a copy of the paperwork outlining any damages when you moved in), you should be able to mitigate the charges yourself (at the very least you will have plenty of documentation should you have to end up in small claims court.
Of course, you could also hire a cleaning company to come in and do all the cleaning for you (they do not do repairs so make sure those you do yourself)
Perhaps make it a little easier on your student (so they don't have any excuse not to clean) and send them with some of the basic cleaning supplies. It totals under $20.00 and I assure you that this small investment will help mitigate some much larger charges upon move out.
Don't forget to have them coordinate with their roommates for a vacuum cleaner and also either a bucket and mop or Swiffer which they can use for both dusting and washing the floor.
For some other kitchen and bathroom cleaning hacks, we share with you tips from thekitchn.
Pass on these great tips, tell your friends and like us on Facebook, Instagram, Twitter, and Pinterest. Find out more about how to use HaveUHeard as a great resource. Sign up for other great tips at haveuheard.com.